| | |
| --- | --- |
| | Search all of HRM Guide |
Ten Tips For Preventing Stress In Your Workplace

By Anna Kelsey-Sugg, Assistant Editor,

March 8 2009 - What's the best way to deal with stress in the workplace? Prevent it from ever occurring! Our ten tips show you how.

Start from the top. Make sure management is on board and interested in making sure your workplace is stress-free. Provide examples of what stress can do to staff, and of the personal and financial cost of stress not being taken seriously.
Identify stress risks. Involve employees and managers in determining risks for stress; then involve them in the implementation of plans to address those risks.
Promote safety and support. Supportive supervisors and managers are likely to buffer employees against stress risks in the workplace. Encourage staff to attend classes on relaxation, time management and assertiveness; and make sure they know who to talk to about their problems.
Seek feedback. Feedback can be gained through focus groups or employee surveys which allow employees to contribute ideas and opinions, and to confirm or challenge the nature of problems identified. They also help to identify factors in the workplace that are creating stress.
Share and follow through. It is essential that ideas raised during focus groups or through surveys are followed through with. Discuss the results with employees and use the results to encourage future contribution and let workers know they have control and a voice in the workplace.
Review regularly. As well as reviewing stress prevention plans regularly, and any changes that have resulted from them, review employees' needs and work environments. Is the workload appropriate and does it match the employee's skill set, are training needs met, is the working environment faulted (e.g. regarding noise, temperature in office, light). Regular review encourages employees to discuss problems and gives them a sense of control in their work environment.
Break things up. Introduce a variety of tasks to boring, repetitive work; use job rotation; redesign jobs.
Keep stress in mind. Design or redesign jobs using your knowledge of what creates or aggravates stress. Roles should be neither too laborious nor too cushy, and physical demands neither too high nor too low. Employees should receive clear instructions about their roles and what's expected of them.
Give feedback. Tell employees when they've performed well. A worker is less likely to experience work-related stress if they feel that both they and their work are recognised and appreciated.
Improve control. Give employees' control over the way they perform their roles by introducing flexi-time, job-sharing possibilities and more consultation about working practices.



HR Books on Ebay UK
HR Books on Ebay USA
HR Books on Ebay Canada
HR Books on Ebay Australia
Business Books on Amazon UK
Business Books on Amazon US
Business Books on Amazon Canada
---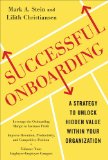 Successful Onboarding: Strategies to Unlock Hidden Value Within Your Organization Mark Stein and Lilith Christiansen
Fact: 1/3rd of all external hires are no longer with the organization after 2 years. What can you do about it? In a word: onboarding.
More information and prices from:
Amazon.com - US dollars
Amazon.ca - Canadian dollars
Amazon.co.uk - British pounds
Amazon.de - Euros
Amazon.fr - Euros
---

The HR Answer Book: An Indispensable Guide for Managers and Human Resources Professionals by Shawn A. Smith, Rebecca A. Mazin
The HR Answer Book addresses 200 questions that every employer needs to deal with. Accessible and concise on-the-job companion.
More information and prices from:
Amazon.com - US dollars
Amazon.ca - Cdn dollars
Amazon.co.uk - UK pounds
Amazon.de - Euros
Amazon.fr - Euros
---
---
HRM Guide makes minimal use of cookies, including some placed to facilitate features such as Google Search. By continuing to use the site you are agreeing to the use of cookies.
Copyright © 1997-2023 Alan Price and HRM Guide contributors. All rights reserved.